Growing up between northern England and the Appalachian mountains of Maryland, Michael's roots have been branched with diverse landscapes and fertile culture. Mix in a decade of running a grass roots non-profit in rural Latin America, heading up an arid lands research project in the dessert of SE Spain, and extensive study at the New York Botanic Garden you end up with an eclectic designer that melds form, function, and productivity seamlessly.
Michael's beginning with whole system design began with an opportunity to live with the last of the Lacondon Mayans in southern Mexico along the Guatemalan border. Here he experienced the ancient design practices of the Mayans that ingeniously mimic natures patterns to create functional landscapes. About the same time he discovered a parallel design system coming out of Australia, "permaculture," that applies similar landscape use of the Mayans but adapted to the modern world. Combining designs in 2001 he created Project Bona Fide on Ometepe Island, SW Nicaragua.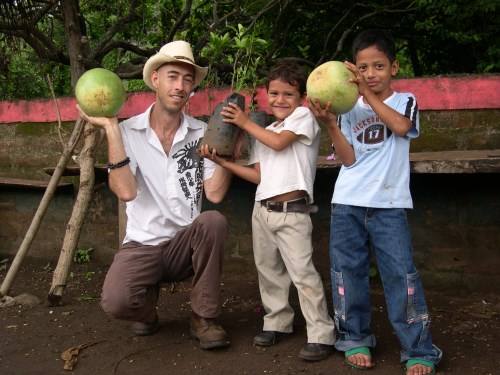 Project Bona Fide started on the volcanic slopes of Ometepe Island in Nicaragua's southwest corner just above Costa Rica. The project focus has been to create food security through food forest design that maximizes land use for a diversity of harvests. Today in 2018, seventeen years into the projects inception, 26 acres have grown into a haven of production and examples of linked design systems that mimic natures functions while meeting the needs of local economies and ecologies.
As the project stabilized Michael began to split his time in a parallel universe on the island of Manhattan where he studied the latest in modern design at the New York Botanic Garden. Coupling whole system design learned in Latin America with the form and art of contemporary design Judd created Ecologia, Edible & Ecological Designs and won his first commission from Top Chef contender Bryan Voltaggio to design an edible courtyard at his flagship restaurant "Volt," in Frederick, Maryland.
Today Michael remains in the Frederick area where he and his wife Ashley and son Wyatt live at Long Creek Homestead in a spectacular circular strawbale home in the center of extensive landscapes that  push the realities of design to new levels…
Read more about Michael's newly released book 'Edible Landscaping with a Permaculture Twist'
ASSOCIATES
Environmental Site Solutions, LLC
Environmental Site Solutions, LLC specializes in providing comprehensive environmental quality solutions throughout the Mid-Atlantic region. We work with public and private facility owners/operators through every stage of a project including concept, design, construction, implementation, and long-term maintenance.Specializing in:
Environmental Systems Design, Installation, Maintenance
Rainwater Harvesting and Reuse
Nonpoint Source Pollution Abatement
Low Impact Development (LID)
Leadership in Energy and Environmental Design (LEED)
Sustainable Urban Forests Coalition
The SUFC is an assembly of national organizations working to advance a unified urban forest agenda for our nation's communities.
The SUFC is composed of city planners, educators, landscape architects, non-profit leaders, scientists, arborists, foresters, nurserymen and women, and many other professionals who care for, monitor and advocate for trees and our urban forests as a whole.
Down to Earth Design – Sigi Koko, principal
Sigi Koko founded Down to Earth in 1998 to provide sustainable building design and green consulting services in the Mid-Atlantic region. She works exclusively on projects that are ecologically sensible and on the forefront of sustainable design. Sigi Koko holds a Masters of Architecture degree from the University of Texas.
Her primary areas of expertise are in healthy and sustainable building materials, strawbale construction and other natural building techniques, energy and water conservation strategies, and passive solar design.
Sigi has designed many strawbale structures in the mid-Atlantic region, including Maryland, Virginia, Pennsylvania, and West Virginia. All projects have received standard building permits. Her projects have been mentioned in the New York TImes, featured on HGTV, and she has been featured in numerous print articles, including the Washington Post, the Baltimore Sun, and Progressive Engineer.
http://www.buildnaturally.com/index.htm
Land Beyond the Sea (LBS) Ecological Design
Land Beyond the Sea, Ecological Design is a multi-disciplinary Ecological Design firm with practice based in native species restoration, permaculture, urban ecology, organic agriculture & composting, ecological treatment systems for wastewater & stormwater, wetland reclamation, reforestation, public space beautification & environmental youth outreach & education.
We apply core tenants of Ecological Engineering & Permaculture, focusing on design for the mutual benefit of humans & the natural world, envisioning humans as active participants in healing the web of life, employing the self-designing capacity of ecosystems, stressing complex interwoven relationships, involving ancient traditional ecological knowledge of indigenous communities, embracing integrated, adaptive & collaborative management, eliminating the concept of waste, harvesting renewable energy, utilizing rainwater catchment & reuse, focusing on a localized, community scale, inspiring awareness, stewardship, & action!
Sarah Kelsen, EIT, MS Ecological Engineering
Sarah Kelsen is Principal & Co-founder of Land Beyond the Sea, Ecological Design, a multi-disciplinary design firm with practice based in conservation and regenerative agro-ecological design, ecological water treatment systems and environmental outreach and education.
As a lifelong organic farmer, Sarah's happiest when she's outside growing real food and helping people connect with the earth. Her recent endeavors include co-founding Peace Tree, an international non-profit supporting conservation and indigenous agro-ecological design, experimental off-the-grid living, and as part of her graduate research in Ecological Engineering, tracking how land use affects sustainability and community well-being. As a passionate locavore and forager, she sees the possibility of food forests everywhere.
Whole Systems Design, LLC
http://www.wholesystemsdesign.com/