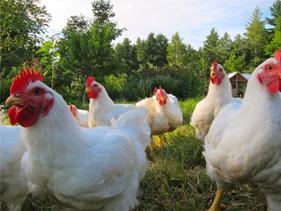 More and more people are becoming 'Flocksters' and realizing the ease and joy of keeping 'backyard' chickens. Chickens animate a landscape, produce the tastiest and most nutritious eggs imaginable and are champion recyclers to boot. Few delights compare to collecting eggs from the coop or being entertained by the quirkiness of chickens. Fun for all ages.
Roosters not needed! Hens get along and lay just fine without them so read on how Ecologia can help get you started housing and growing for your new flock.

Chicken Gardens
A chicken garden is less about letting your girls loose in the vegetable patch as it is planting beds to harvest for them. Fortunately some of their favorites are edible landscape favorites like sunflowers, rainbow chard, amaranth and sorghum. Create a garden bed or two for the hens and extend your garden season through Fall and winter and feed the brood fresh greens of wheat, kale, mustards, rye, turnip and radish tops and close the loop right in your yard!

With more space perennial chicken forage can be designed into the landscape.  Flocksters and chicks alike can benefit from planting hazel nuts, mulberries, chestnuts, sweet acorns, goumi berries and many more. Throw in some stink bugs and Japanese beetles and you'll have the happiest brood in the neighborhood!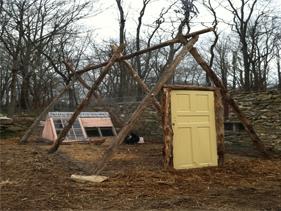 Sustainable Henhouse Designs
Whether a henhouse hilton or a mobile chicken tractor there are no limits to coop designs. Ecologia crafts one of a kind henhouses, using sustainable materials, from small portable coops to beautifully made natural buildings of strawbale, adobe, stone, wattle & daub and cord wood masonry. All designs take into account ventilation, sunlight, predators, space and surrounding architecture.
Give us a cluck to help getting you started.
Resources
Ussery, Harvey, 'The Small-Scale Poultry Flock'
Posted In: Edible and Ecological Landscape Design