Edible Landscaping with a Permaculture Twist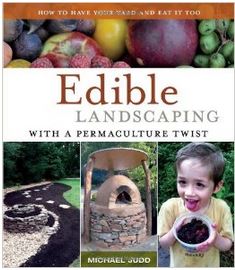 Summer Book Sale!! Order now and receive 20% off a personalized signed copy and free shipping – Only $19.95. Books are available via Amazon but by ordering here at the same cost you support the author directly. Buy for the family and friends and – FOR A LIMITED TIME BUY 3 COPIES AND RECIEVE ONE FREE! – just select three copies in the checkout and we will include the 4th in your order. If you would like a personalized copy make note in the comments section of check out. For wholesale orders please contact us directly. *Note you can order with a credit card via PayPal. ** U.S. orders only – No International Shipping.

Edible Landscaping with a Permaculture Twist is a how-to manual for the budding gardener and experienced green thumb alike, full of creative and easy-to-follow designs that guide you to having your yard and eating it, too. With the help of more than 200 beautiful color photos and drawings, permaculture designer and avid grower Michael Judd takes the reader on a step-by-step process to transform a sea of grass into a flourishing edible landscape that pleases the eye as well as the taste buds. With personality and humor, he translates the complexities of permaculture design into simple self-build projects, providing full details on the evolving design process, material identification, and costs.
"If you believe it's time for Americans — rural, urban and suburban alike — to reconnect with the land we live on, Michael Judd's Edible Landscaping with a Permaculture Twist is a must read. ..this book brims with truly creative ideas about how to make our yards and gardens more productive and attractive, and at the same time enrich the natural environment rather than deplete it. Edible Landscaping with a Permaculture Twist shows a better way, and Michael Judd makes it look not only doable and attractive, but also deeply rewarding." Bruce Levine, President, American Chestnut Foundation
"This is a fun book, in its writing, in its photographs, and in its illustrations. It's also got good, solid information. I find many permaculture books ponderous. Not Michael's, as evidenced by the "twist" in the title.  Edible Landscaping with a Permaculture Twist is a good introduction to a lot of arenas: rainwater harvesting, gardening, building an earthen oven, growing mushrooms, making wine.." Lee Reich, author of Uncommon Fruits for Every Garden & Landscaping With Fruit
More reviews for Edible Landscaping with a Permaculture Twist:
http://www.thepermaculturepodcast.com/2014/review-edible-landscaping/
http://www.nwedible.com/2014/03/giveaway-edible-landscaping-with-a-permaculture-twist.html
http://www.resilience.org/stories/2014-10-30/review-edible-landscaping-with-a-permaculture-twist
http://www.permies.com/t/31938/books/Edible-Landscaping-Permaculture-Twist-Michael
http://www.judithdreyer.com/?s=judd#sthash.NN7BeVFP.dpbs
http://www.nourishingdays.com/?s=judd
Chapters Include:
Herb Spirals
Food Forests
Raised-Bed Gardens
Earthen Ovens
Uncommon Fruits
Outdoor Mushroom Cultivation, and more . . .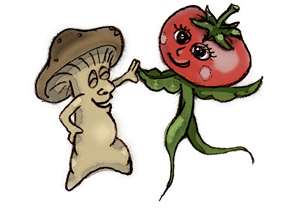 The book's colorful pages are filled with practical designs that Judd has created and built over years of workshops, homesteading, and running an edible landscaping business. Though geared toward suburban gardeners starting from scratch, the book's designs can be easily grafted to the micro-habits of the urban landscape, scaled up to the acreage of homesteads, or adapted to already flourishing landscapes. Edible Landscaping with a Permaculture Twist is a tool to spark and inform the imagination of anyone with a desire to turn their landscape into a luscious and productive edible Eden.
A few Sample Pages and Images…
 
CLICK HERE TO LISTEN TO AN INTERVIEW ABOUT THE BOOK: 
Sustainable World Radio Interview with Michael Judd
Posted In: Edible and Ecological Landscape Design