Long Creek Homestead permaculture site is just north of downtown Frederick, Maryland at the entrance to Gambrill State Park. Our 25 acre site is a woodland paradise situated along a peaceful rambling creek that offers a rich diversity of eco-zones and resources to work with and learn from. We have multiple food forests, at different ages and stages that boast over 100 varieties of cultivated fruits, nuts and medicinals. Our gardens are designed on raised bed swales and hugelkultur beds that passively harvest water, create micro-climates and pump food! We grow many types of culinary mushrooms throughout the landscape for food and fertility. In 2016 we completed building our circular round wood timber framed strawbale home that celebrates the beauty and craft of using local resources.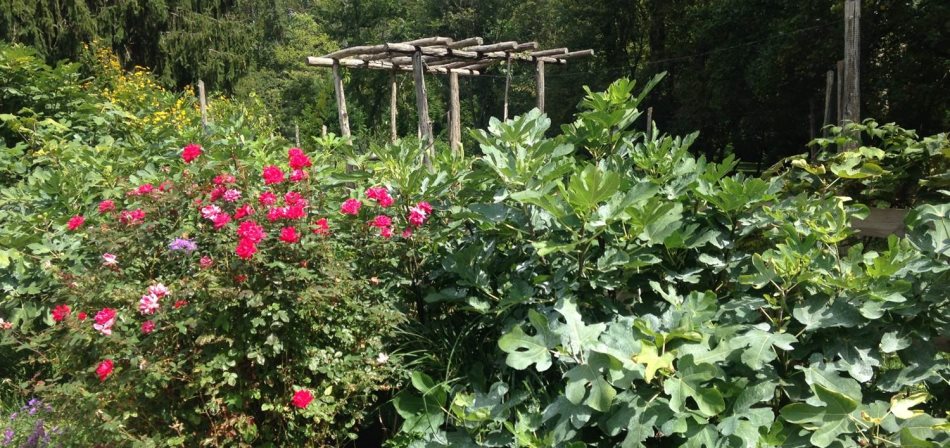 Long Creek Homestead hosts a series of educational and experiential events through hands-on workshops, tours and festivals.

Adventures in Strawbale Building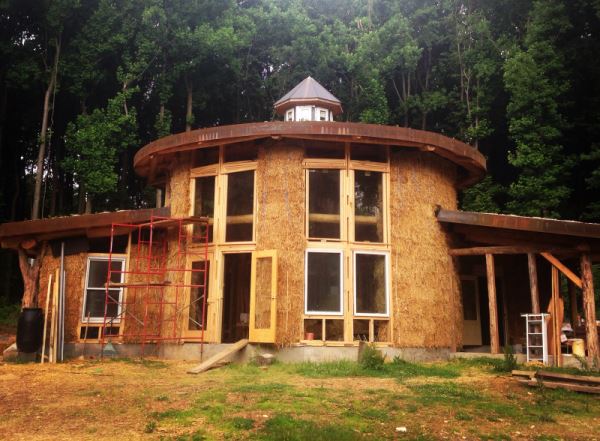 The following is a chronicle of our adventures in building a round wood timber frame circular strawbale home on our budding homestead and educational center.
Long Creek Homestead is located on 25 acres of Appalachian heaven in the Blue Ridge Mountains of Maryland, just 5 miles north of historic Frederick. The land is mostly regenerated forest composed of poplar, cherry and black locust which we have built our home from. 75% of the wood for the home was storm fallen from Hurricane Sandy, which hit us in October of 2012, kicking off the design process and building that is still in motion 4+ years later.
*Our home is fully permitted and coded to law
Rubble Trench Foundation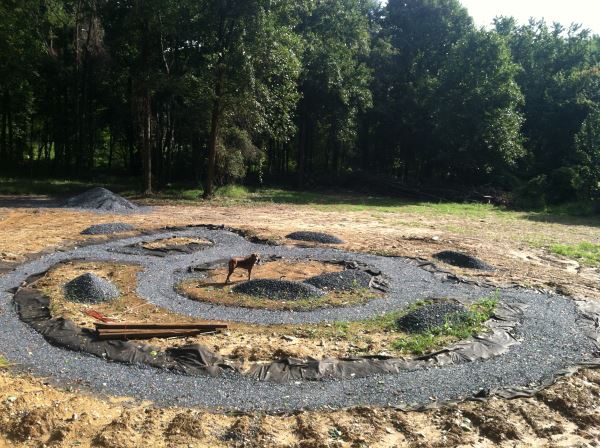 The foot print and foundation for our home is quite simply packed gravel. There is no rebar or concrete in the ground to eventually fail. The oldest buildings on the planet are on stone foundations.
Working the Wood
All the wood in our home was first hand peeled! Mostly by Ashley while pregnant.
Round Wood Joinery
Ninja Wood Working. It took us 7 months to frame the home! It would have been half that if the timbers were squared. Gratitude to master wood worker Peter Bugler – http://www.acorn-woodworks.com/.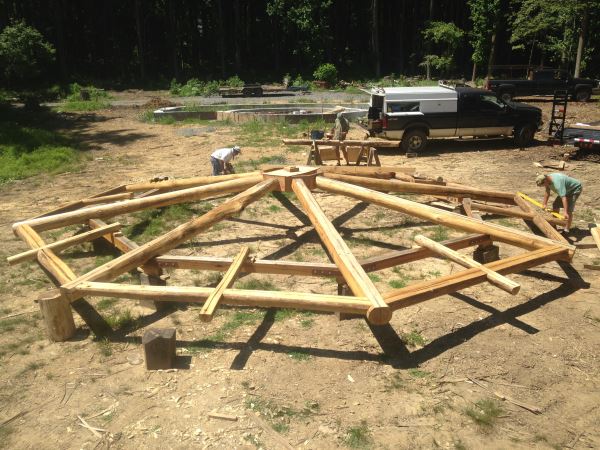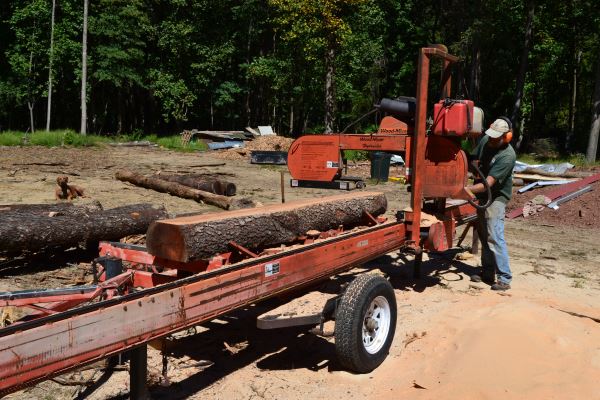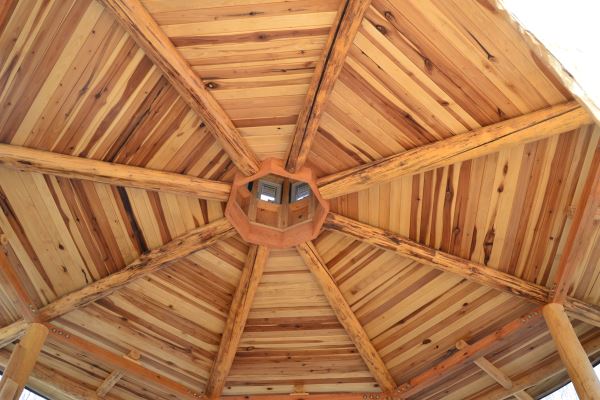 Center roof and columns were built on the ground and all raised in one day with a crane. Perfect fit. All poplar wood.
Lower roof line was built in place using a traditional jig to lever rafters in place.
Roof decking was saw milled on site and is 2-3" thick to accommodate the soil and plants of the living roof to come.
Living Roof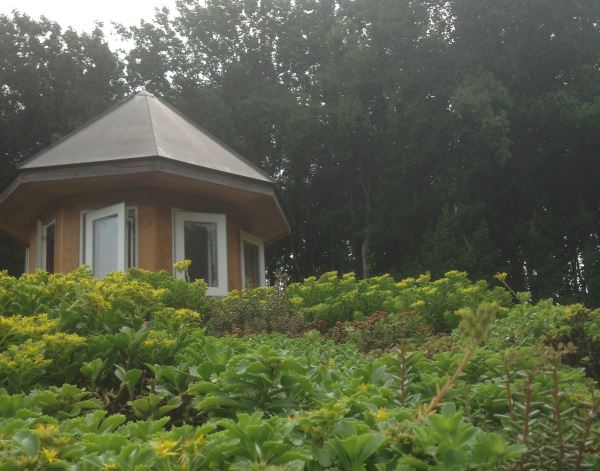 Recycled rigid insulation was laid on top of the roof decking, covered with a heavy duty EPMD liner (pond liner) and filter fabric. Approximately 5" of top soil/compost mix was bucketed up during workshops and planted with drought tolerant sedums.
Living roofs help insulate against heat gain in summer and heat loss in winter as well as reduce runoff.
Strawbale Infill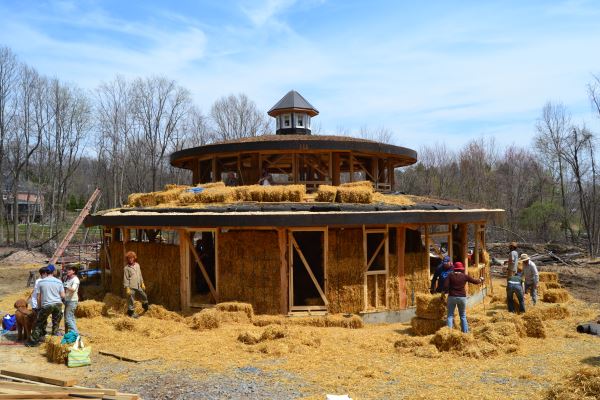 We used 500+ bales as infill between the round wood columns, mostly during workshops.
Earthen Plaster – Scratch Coat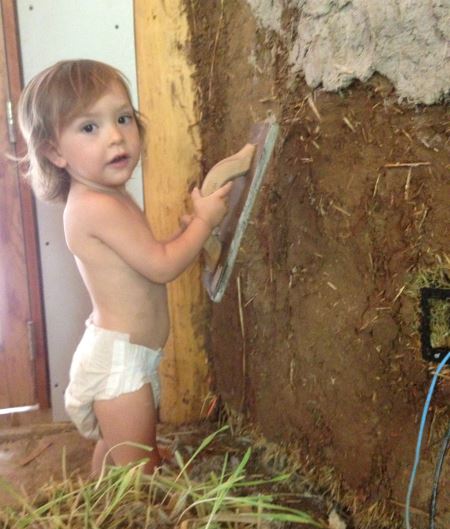 First of three layers of earthen plaster (clay & sand) goes on the interior of the strawbales. Wyatt Wizard Judd in action!
Lime Plaster – Scratch Coat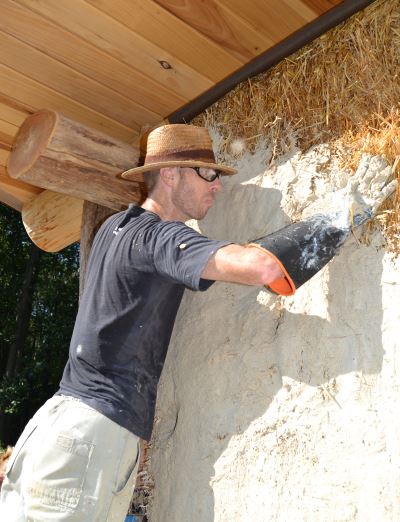 First of three coats of lime plaster (putty & sand) goes on the exterior of strawbales. Jason Judd plastering it up!
Masonry Stove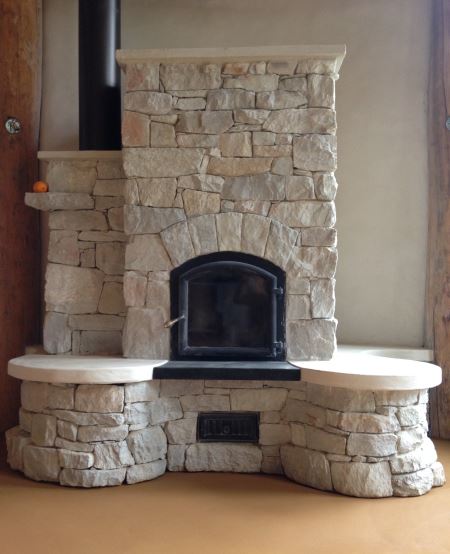 Finnish design stove that stores heat in it mass that slowly and evenly radiates. Only requires an arm full of wood a day! Ace stone work by Randy Bollinger.717.253.7978.
Final Earthen Plaster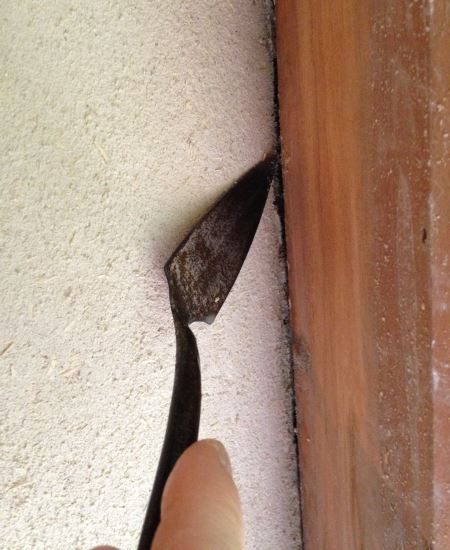 Our favorite part has been the plastering. For the final plaster recipe we created a unique blend of kaolin clay, white sand, toilet paper, fine straw, and wheat paste to give a light colored finish.
Finish Earthen Floor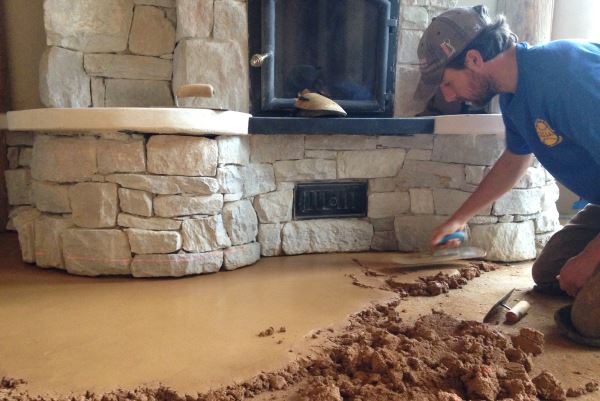 The final earthen floor has turned out beautiful and strong. Mixing sifted clay, sand and straw the final layer is hard troweled on. When dried it is heavily oiled with linseed. Once the oil dries we give a light sand and apply a wax. The finish feel is super smooth and durable.
This is as far as we have reached as of July 2016. We hope to get the move in permit this summer after creating the grey water beds, styling out the tiled walk in tub/shower, and finishing the black locust framed porch.. Stay tuned.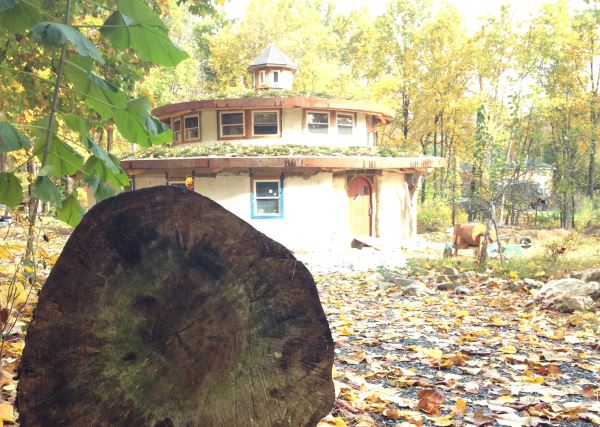 Posted In: Edible and Ecological Landscape Design